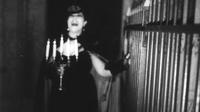 Vampire Tour of San Francisco
The Vampire Tour of San Francisco is a walking tour of Nob Hill, conducted by Mina Harker from "Dracula." The script contains approximately 85% true San Francisco history with fun vampire lore and humor mixed in. The tour is not frightening, so it is suitable for all ages. Learn many fun and some surprising facts about San Francisco's history and how vampires played an important role in that history. The walk is very easy, with no climbing up and down hills, and is wheelchair friendly.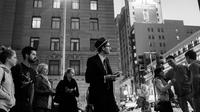 Haunted SF: Murder, Mystery and Ghosts
A dark and murderous tour through the seedy past of downtown alleys and streets. Get haunted by after-dark tales of mysterious deaths, ruthless villains, the old red light district, famed ghosts, shocking assassins and more. Meet your creepy storytelling guide near Union Square for this eerie tour.